Recently we had the anniversary of the famous Martin Luther King, "I have a dream!" speech. Regardless of your politics or world view it would be difficult not to agree that it was a powerful speech.
One man – a journey of courage and commitment to make the world a better place, a more just and more place for his children and their children. This journey led him to the steps of the Lincoln Memorial in Washington DC:
"I say to you today, my friends. And so even though we face the difficulties of today and tomorrow, I still have a dream. It is a dream deeply rooted in the American dream. I have a dream that one day this nation will rise up and live out the true meaning of its creed: "We hold these truths to be self-evident, that all men are created equal." I have a dream that one day on the red hills of Georgia, the sons of former slaves and the sons of former slave owners will be able to sit down together at the table of brotherhood.
I have a dream that one day even the state of Mississippi, a state sweltering with the heat of injustice, sweltering with the heat of oppression, will be transformed into an oasis of freedom and justice. I have a dream that my four little children will one day live in a nation where they will not be judged by the colour of their skin but by the content of their character. I have a dream today!"
One woman – just an ordinary person who was tired of racism, of injustice, of been treated as lesser than, of not having her dignity respected. So this one small woman got on a bus in Montgomery Alabama on December 1st, 1955 and rejected the bus driver's order to relinquish her seat in the coloured section to a white passenger because the white's only section was filled. Arrested for her act of "civil disobedience" Rosa Parks fought the case in the courts and won. But the young seamstress at a local department store lost her job as a result and lived under death threats for years afterwards.
One step – some of us are old enough to have sat around grey, white, black TV screens and watched as Neil Armstrong took that first step onto the lunar surface in 1969, "That's one small step for (a) man, one giant leap for mankind!" That one step represented humankind's ingenuity, adventure, determination and courage and led to one photo – that first photo of Earth from the moon, a small blue and green jewel in the middle of a universe of dark – so fragile – our home, home to all who have lived and died and dreamed and endeavoured to be the best they could be.
One moment of courage – it was August 1941 and a polish Franciscan friar – Maximilian Kolbe stepped forward and volunteered to die in place of a stranger in the German death camp of Auschwitz. Kolbe in the time leading up to his arrest had used his monastery to provide shelter for refugees including hiding some 2,000 Jews from German persecution. When arrested by the German Gestapo he was sent to Auschwitz. There after only a matter of weeks a group of men were chosen to face death by starvation to warn against escapes. Kolbe was not chosen but volunteered to take the place of a man with a family. Of the group placed in confinement to starve to death, Kolbe was the last of the group to remain alive after two weeks of dehydration and starvation. Eventually he was killed by a lethal injection of carbolic acid.
One moment – Edmund Hilary with Sherpa Tensing on the last assault to the summit of Mt Everest comes to a sheer rock wall. After only a moment's hesitation Hilary reaches for a metal spike and begins the almost impossible climb – exhausted by both the altitude and the effort. Today we call it Hilary's Step!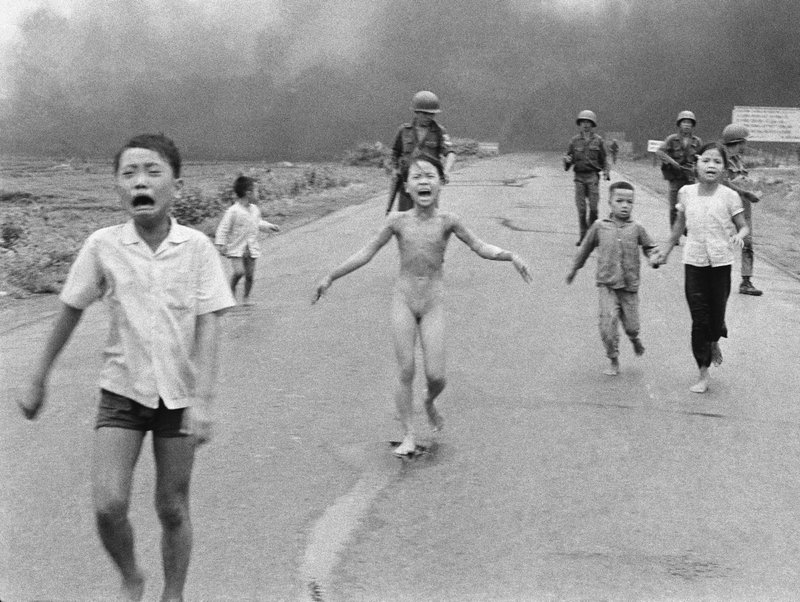 One image – that of a 9 year old Vietnamese girl – Kim Phuc – running down a highway at the height of the Vietnam war after a aerial napalm attack had killed many and burnt her clothes. The photo was taken by 21 year old American photo-journalist Nick Ut from Associated Press. What very few know is that immediately after taking the photo Ut rushed her to a hospital, which initially refused to help her, considering her too badly burned to save. Ut's flashing of his press credentials and insistence on them treating her saved her life. The image did much to bring home to many the reality of war.
One decision – with the end of the Apartheid era in South Africa many were calling for revenge and justice – to "right the wrongs" of the decades of racism. Nelson Mandela picks up the phone and invites Archbishop Desmond Tutu to head the Truth and Reconciliation Commission – where over several years thousands of victims of violence and abuse were able to tell their story – and have it heard and honoured. Both victim and perpetrator were able to encounter one another's story in the hope that by sharing story, by naming wrong, by admitting fault – there was some chance of forgiveness and reconciliation.
One small boy – on the shoulders of his older brother. The brother knocks on the presbytery door in a parish in Nebraska in the middle of a fierce winter's night. The priest opens the door to find them both shivering and alone. "Ain't he heavy?" the priest asks! "He ain't heavy – he's my brother!" That moment and the response of an Irish priest – Father Flanagan led to his work with homeless and youth and eventually the birth of Boys' Town.
One man – William Wilberforce who rose in the House of Commons in 1789 and argued for the abolish-ion of the slave trade and slavery itself which the British Empire was heavily invested in. Wilberforce eloquently argued that those who filled the hulls of slave ships, were chained together and often died in ocean storms and who, if they survived – were whipped and sold as 'cargo' into a life of servitude, poverty and pain – were human and therefore had the inalienable rights that every human being shares!
One step – the first in every journey, even if it be that of a thousand miles.
One smile – perhaps all it will take to give another hope.
One touch – if gifted with respect and love may say beyond words, "You are lovable!"
One word – sorry – may be all a hardened heart needs to hear.
One hand – reached out in friendship, to lift another up, to wrap around rather than strike – may be the beginning of a ripple that will touch a thousand shores.
One glace – with soft and knowing eyes may heal the deepest hurt.
One friend – to sit with you in silence in the midst of anguish and pain – may be a jewel beyond all price.
One laugh – may be all it takes to bring someone out of over introspection and into the beauty that surrounds them.
One choice – to be gentle with yourself in a myriad of ways – all small, all ordinary but creating an energy that will lead the Universe to smile!
Today and everyday may we never forget, nor take for granted the power of one. Today and everyday may we know deeply that we too can be that one!